ABOUT
 Image Copyright; Michael Grubb Studios / Bournemouth BID 2015
Singing Trees.
The Gardens of Light Festival was an award winning event that ran between November 2014 and January 2015 as part of Christmas events in Bournemouth Town Centre, UK. The event was devised and curated by the award winning Michael Grubb Studios and took place in The Lower Gardens, Bournemouth. BOMO Audio were approached by Bournemouth Town Centre BID to collaborate with Michael Grubb's team in order to add a sonic element to the event. As well as coming up with some "sound led" concepts for the Light Pods at the centre of the festival, BOMO Audio were asked to create an outdoor sound installation that would help connect two of the main locations of the event; Santa's Grotto housed in the Lower Gardens bandstand and the popular ice rink and bar situated in the main part of the Gardens, along an area of the Gardens called Pine Walk.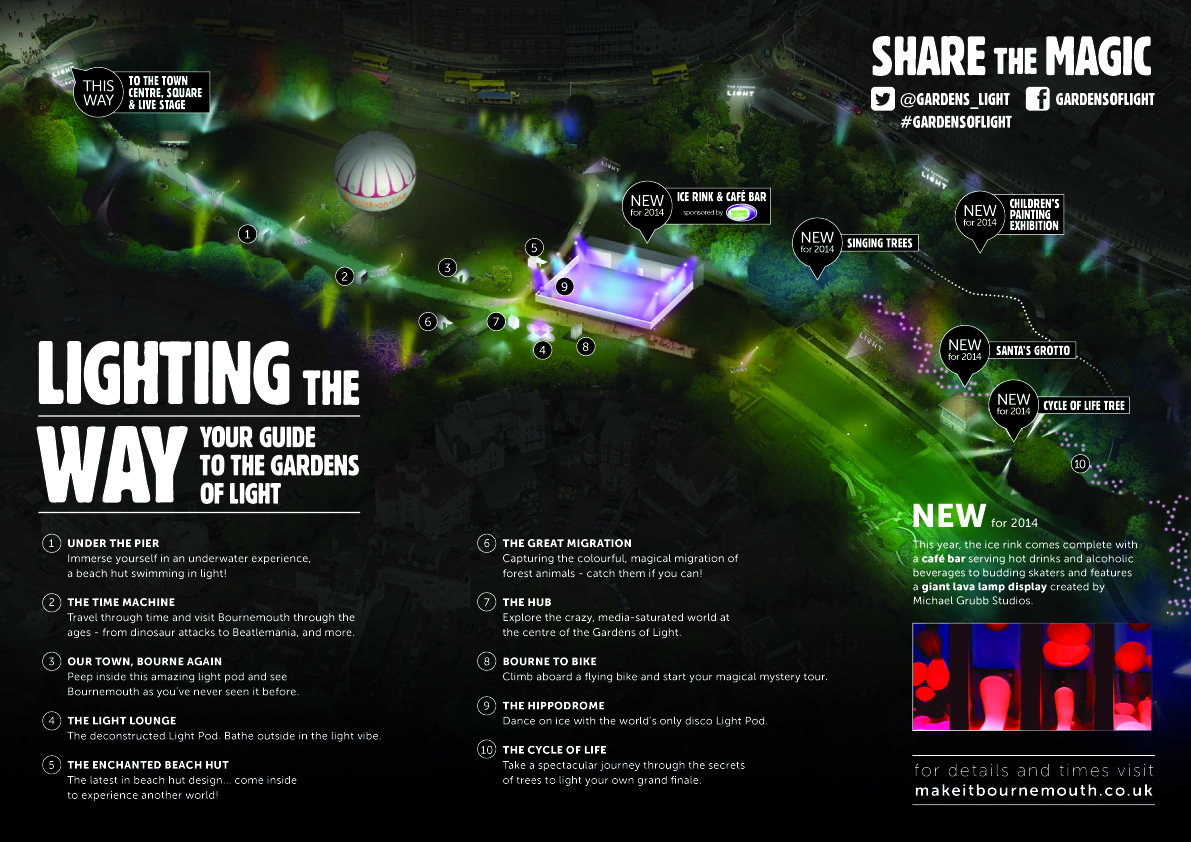 The Concept.
The idea behind the project was to create an engaging, evolving and subtle soundscape in the section of trees along Pine Walk, en route to the bandstand at the Lower Gardens. The soundscape took the form of a continuous, multi-channel audio piece designed to represent a "choir" of trees. A selection of eight pine trees were assigned a frequency between the ranges of 100Hz and 3.4kHz. The system of frequencies and frequency intervals assigned to the selected trees were based on a Fibonacci sequence. The Fibonacci sequence is often found in nature and in particular, the branching structures of trees, the arrangement of leaves on a stem, an uncurling fern and the spirals of a pine cone.
By giving a "voice" to a particular tree, based on an organic sequence of numbers and allowing the trees to randomly emit their frequency either together or on their own – the group of trees become a "choir". The concept was to allow the soundscape to evolve over time and mingle with the natural ambiance of the space. Due to the changes in the natural soundscape of the location at different times of day, the soundscape took on a different mood and feel as it mingled with sounds of nature and the general ambience of The Gardens. At quieter times of the day, the soundscape was carried across The Gardens, as far as the Pier Approach and at other times was almost imperceptible until a few meters away from the sound sources.   However, the intention was not to overwhelm the space with noise, but rather to underscore the space with sonic textures that draw the listener into observing other sound elements (natural and otherwise) of the space. The objective was to encourage listeners to take a moment, and allow time and space to listen to their surrounding in a conscious way.
All Images Copyright; Michael Grubb Studios / Bournemouth BID 2015
CATEGORY
art installation, live event